Georgia from TAS, 19 yr old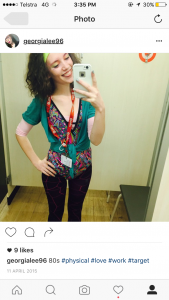 Georgia is a hard worker with a strong ethic to work. No matter what the job is Georgia is always willing to do it!! Georgia never turns down shift and is always on time. Georgia approaches each job or task given to her in a fun enthusiastic way and still gets the job done. Georgia works two jobs and is a very valued team meneber at both of these jobs! We want Georgia to be noticed for her hard work!!!
**photo of an 80s day at work**
This photos shows how much fun and how bubbly Georgia is!
GET ACTIVE
Join a community of young people standing up for their rights at work.