Alysha from SA, 21 yr old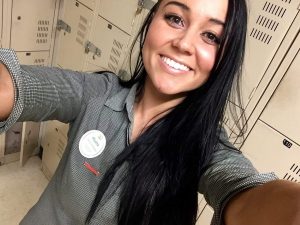 Alysha has been employed by Woolworths for over 6 years & she has always given her absolute best. Even if you're having a bad day, Alysha's presence, smile & sunny disposition is guaranteed to cheer you up. She is the kind of person who will go out of her way for you as if it's no trouble at all, and she'll always greet you with a smile – she truly does brighten up the workplace & makes it a better place, that's why we're glad to have her around! But she's not just rainbows and smiles, Alysha is energetic, enthusiastic and deeply passionate about the work she does, she genuinely cares for each and every workmate, customer, item scanned through her til! (Haha) she is always involved in events within the workplace including, fun in-store events and promotions, dressing up at any and every opportunity, fundraising and community events and more. Alysha always supports and encourages her fellow workmates within the store and beyond – In fact Alysha is also her store's SDA Delegate and Health and Safety Representative, working hard at making it a better workplace for her and her friends all year round! For someone who gives 100%, one hundred percent of the time, Alysha is our Young Workmate of the Year.
GET ACTIVE
Join a community of young people standing up for their rights at work.